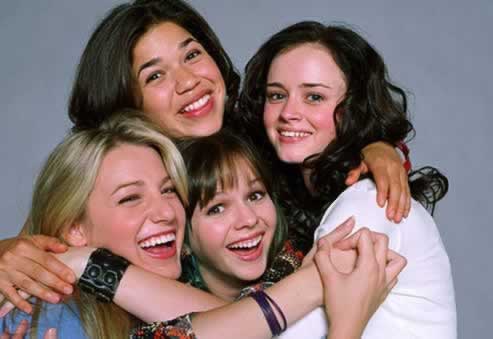 I decided to make a list of my all time favourite movies. Movies that I will never fed up of watching.
First of all,
Sisterhood of the travelling pants(1,2)
. The first movie shows four teenage girl best friends(
Lena,Carmen,Bridget,Tibby
) with completely different personalities and interests during theis summer holidays when they have to separate for the first time since their friendship began. Apparently just one day before they leave they find
a magical pair of jeans
which fits to each of them perfectly despite being of various shapes and sizes. To keep in touch they pass these pants to each other as well as the a
dventures they are going through while apart...The sequel follows the same pattern but with different places and new incidents. You will recognise the main actresses because Bridget is played by Blake
Lively(from gossip girl), Lena by Alexis Bledel, Carmen by America Ferrera (from Ugly Betty) and Tibby by Amber Tamblyn
.
The second of my fav films is
Lola Rennt
. The first time I watched this movie it seemed so weird to me, it was completely different from any other film I had seen before.Lola receives a phone call from her boyfriend Manny. He lost 100,000 DM in a subway train that belongs to a
very bad guy. Lola has 20 min to raise this amount and meet Manny. Otherwise, he will rob a store to get the money.
Three different alternatives may happen depending on some minor event along Lola's run
Another movie which is worth seeing is ''
Die Welle'
'. Another german production based on
teaching autocracy. A high school teacher's unusual experiment to demonstrate to his students what life is like
under a dictatorship
spins horribly out of control when he forms a social unit with a life of its own.
One of the movies which really made me think a lot of things and create many incites was
''V for Vendetta''
. The story takes
place in the near future in a city in which people have to sacrifice their freedom and be guided by a
corrupted goverment
. Driven by a personal vendetta, a mysterious individual William Rookwood (Hugo Weaving) comes to the forefront to take up the cause of freedom. He wears a mask of Guy Fawkes to cover his face, and changes his name to only
V
. V's mission is
to kill all the doctors who had tortured him at the detention center, and bring back justice to the country.
A completely different kind of movie is
''The Devil wears Prada''
. A film about a woman with a
successful career in the field of
fashion journalism
(Miranda Priestly-Meryl Streep) and a young just-graduated in journalism woman (Andrea Sachs -Anne Hathaway)who is hired to work as the second assistant of the powerful and sophisticated Miranda. Andrea has to change her style based on the latest trends, dress more adequately for the environment. Andrea changes her attitude and behavior, affecting her private life and the relationship with her boyfriend Nate, her family and friends. In the end,
Andrea learns that life is made of choices.